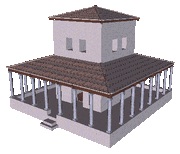 Bourton Grounds Temple
was and Egyptian temple dedicated to the goddess
Isis
located in Buckinghamshire, UK. It was one of the two know temples of the
Egyptian Religion
in this particular province (Britannia). The other being the Fanum Isidis of Londinium.
This square Romano-British temple lies beside the River Twin near Buckingham, opposite the Thornborough Roman barrows. The walls were of timber-facing with a rubble core, with massive corner-posts. The portico measured c.53 ft. square with walls c. 2 ft. thick, the cella 25 ft. square with 4 ft. thick walls. The temple faced east. It was built in the late-3rd century and remained in use until the early-5th
Community content is available under
CC-BY-SA
unless otherwise noted.