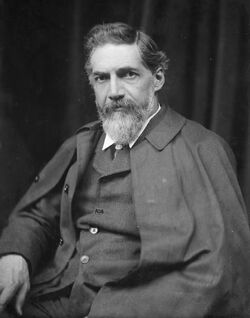 Flinders Petrie is a prevalent figure in the understanding of the formative period of Egyptian History.
Excavations and Notable Artefacts
Mummified arm from Djer's Tomb
A mummified arm was discovered in Djer's tomb[4], which he believed to be a woman[5] which is likely as the skull of a female was also discovered[6].
When the arm was discovered inside the tomb Petrie wrote:
...the arm of the Queen of Djer was found, hidden in a hole in the wall, with the gold bracelets in place. The lads who found it saw the gold, but left it untouched and brought the arm to me. I cut the wrappings apart so bared he bracelets all intact. Thus the exact order could be copied when my wife re-threaded them next morning.
When Quibell came over on behalf of the Museum, I sent up the bracelets by him. The arm - the oldest mummified piece known - and its marvelously fine tissue of linen were also delivered to the museum. Emile Brugsch only cared for display; so from one bracelet he cut away the half that was of plaited gold wire, and he also threw away the arm and linen. A museum is a dangerous place….[5]
References
Community content is available under
CC-BY-SA
unless otherwise noted.