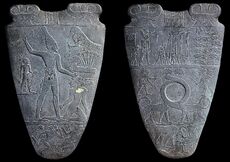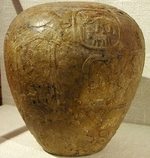 Main Deposit is the name given to the series of votive finds associated with the Narmer Palette, Narmer Macehead and Scorpion Macehead found by James Edward Quibell's team in 1889, Quibell catalogued every item discovered.[1].
Associated Finds
References
↑ 1.0 1.1 1.2 Wilkinson, T, A, H. (2001) Early Dynastic Egypt London: Routledge. ISBN 0-415-26011-6.
↑ Tyldesley, J. (2011) Myths & Legends of Ancient Egypt Glasgow: Ellipsis Books Limited.
↑ Adams, B and Cialowicz, K.M. (1988) Protodynastic Egypt Buckinghamshire: Shire Publications.
↑ Amiran, R. (1974) An Egyptian Jar Fragment with the Name of Narmer from Arad Israel Exploration Journal. Vol.24 No.1 pp.4-12
Community content is available under
CC-BY-SA
unless otherwise noted.