For more images see: The Dream Book Image Gallery.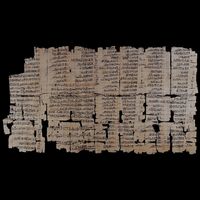 The Papyrus Chester Beatty 3 also known as The Dream Book was a Papyrus discovered at Dier el-Medina owned at one time by Qenherkhepeshef.[1] It then passed onto his wife's second husband Khaemnun and then to Qenherkhepeshef's son Amennakht who both added their names onto the document.[2] On the front of the document, the book is written with one column describing a dream and the other the meaning of the dream, some of the text can be read below:
If a man should see himself in a dream:
Submerging in a river. Good, this means purification from all evils.
Eating crocodile. Good, this means acting as an official amongst his people.
Burying an Old Man. Good, this mean flourishment.
Seeing his face in a mirror. Bad, this means another wife.
Shod with white sandals. Bad, this means roaming the earth.
Copulating with a woman. Bad, this means mourning.
His bed catching fire. Bad, this means driving his wife away. [1]
Seeing his penis erect. Bad, this means victory for his enemies.[2]

On the back of the document there is a letter to the vizier Panehsy by Qenherkhepeshef written during the reign of Merenptah which reads:
The Scribe Qenherkhepshef of the Great Tomb of Baenre beloved of Amun, Son of the sun-god: Merenptah satisfied with Truth in the Estate of Amun, greets his lord, the Standard-bearer on the King's Right Hand, the Lord Vizier of Upper and Lower Egypt, Panehsy. In life, prosperity, health![2]
References
↑ 1.0 1.1 Oakes, L & Gahlin, L. (2005) Ancient Egypt: An illustrated reference to the myths,, religions, pyramids and temples of the land of the Pharaohs London: Hermes House. ISBN 1843094290
↑ 2.0 2.1 2.2 Papyrus Chester Beatty 3, British Museum Online Database, Papyrus Chester Beatty 3, Accessed 17th August 2012
Community content is available under
CC-BY-SA
unless otherwise noted.