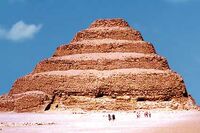 Saqqara is a cemetery site in ancient Egypt best known for the Step Pyramid constructed for Djoser.
History
Known Tombs
Notable Artefacts
References
↑ 1.0 1.1 1.2 1.3 Wilkinson, T, A, H. (2001) Early Dynastic Egypt London: Routledge. ISBN 0-415-26011-6.
↑ 2.0 2.1 2.2 2.3 Dodson, A & Hilton, D. (2005) The Complete Royal Families of Ancient Egypt London: Thames & Hudson. ISBN 9774249577
↑ Clayton, P.A (2001) Chronicles of the Pharaohs London: Thames & Hudson.
↑ Amiran, R. (1974) An Egyptian Jar Fragment with the Name of Narmer from Arad Israel Exploration Journal. Vol.24 No.1 pp.4-12
Community content is available under
CC-BY-SA
unless otherwise noted.